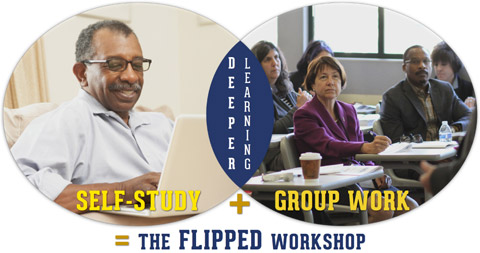 Upgrade Your Workshop to Include
this Exciting Delivery Model
Current "FLIPPED" Workshop Locations
If the workshop includes
My10yearPlan.com
®, participants will also receive instructions for activating their own dynamic Populated Trial Account (PTA). This live, complete, sample student account allows participants to familiarize themselves with this exciting tool prior to the workshop.
What happens if a participant is unable to complete the necessary work prior to the workshop?
Life happens! If a participant is unable to complete their self-study work prior to their scheduled workshop, they will be identified as a workshop guest. As a guest, they will audit the workshop session but, because they have not studied the foundational information, they won't be expected to participate in the discussions and hands-on activities.
This progressive delivery model can be added to your onsite implementation workshop.
What is a "FLIPPED" Workshop?
The "
FLIPPED
" Workshop, like the FLIPPED classroom, has a key trait: It inverts the traditional relationship between the workshop participants and the workshop presenter. Instead of passively receiving content during the workshop session, the participants take the time to digest the information
prior to their workshop attendance
following a carefully designed self-study process made up of online videos, archived webinars, and print materials. Then, during the workshop session, the instructor can spend more time helping participants process what they've learned, presenting advanced information and strategies, working in small groups, facilitating hands on-activities, and answering questions.
This method supports learning science. At its root, the FLIPPED workshop model puts the learner at the center of the course instead of the instructor, and is a more effective technique than the traditional lecture model. The result, according to a growing body of research, is deeper, more connected learning, which will mean more satisfied instructors and better implementation of your freshman transition course.
How does it work?
Once a participant is registered for a FLIPPED workshop, they receive an email outlining the preliminary coursework. This includes registration for their Self-Study Quick Start Guide and the delivery of any print materials (within 7 to 10 days).
Following the online Self-Study Guide for a Quick Start, the participant watches the online videos, taking a short multiple-choice assessment after each. When the self-study is complete, the participant prints their
Assessment Certificate
, which they provide to their workshop instructor. This certifies the necessary work has been completed and the attendee is ready to be an active workshop participant.
As part of the self-study process, participants will download any necessary
pacing guides
or checklists so they are prepared to efficiently complete their implementation plans.